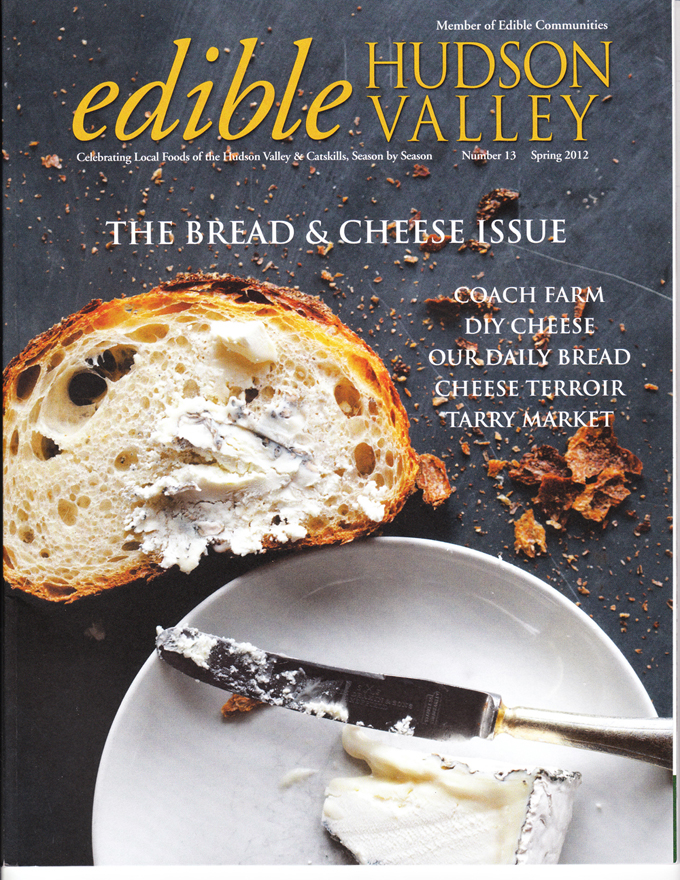 I'm certainly not the first person to make this observation, so I'll just rephrase what's already been said: Beer and cheese, long kept apart by the somewhat defensive motives of wine, have found each other again. And they couldn't be happier. As numerous craft brewers have argued, the two complement each other harmoniously, avoiding the clashes in flavor prompted by some wine pairings. To quote Greg Koch, CEO and co-founder of Stone Brewing Co, "Sorry pseudo-wine experts; the jig is up. Beer is, and always will be, the supreme cheese pairing beverage."
But beer and cheese work well together in other ways, too, as I wrote in the spring issue of Edible Hudson Valley. Beginning centuries ago in Europe, brewers and cheesemakers bathed wheels of cheese in ale solutions to extend the shelf life of their products. With the advent of artificial refrigeration, longevity became less of a concern, and larger dairies turned to mass production. Now that more consumers have embraced the local food movement though, washed rind cheeses are reappearing as small farms like Dutchess County's Sprout Creek seek collaborations with receptive beer companies:
"Today, these practices of washing the rind are more typically employed by creameries looking to contribute additional flavor to the products they distribute to wholesalers and local cheesemongers. In Jefferson, Harpersfield Dairy makes a semi-hard cow's milk cheese washed in local Ommegang Abbey Ale that has broadened the perception of what cheese could be for many. Further west, in Mecklenburg, Bronson Hill Cheesery makes an aged raw cow's milk cheese with Ithaca Beer Company's Gorges Smoked Porter. And in Poughkeepsie, Sprout Creek Farm recently experimented with various brews from Brooklyn's Sixpoint to create a new seasonal cheese exclusively for sale at Whole Foods Markets in the Northeast.

"